Make mesmerizing videos with Videvo:
It is every video maker's dream to make a video that has rich effects and mesmerizing audio so that everyone is awestruck. But t is a fact that owning stock footage and audio assets is expensive. With Videvo, you need not worry about the cost. Videvo was set up in an aim to provide people with free and safe to use video and audio content. They are traveling successfully on their journey to provide high-quality content that is completely free of cost for everyone. You can use these free stock videos and motion graphics in any of your projects and catch the eye of people.
Get free Stock Footage:
You can get your hands over the products in the library of the videvo. The library is filled with over 12200 stock footage and motion graphics clips. It is just not it, they are continuously adding to the list with more carefully curated content. The best part is that you can find various range of concept and you can name anything that you want.
Videos:
The video footages that are provided by them are the best of the best. The video library is overflowing with top-notch stock videos that you can get and include it in your video project whether it is personal professional. The category of the videos is endless with options. You need not search for hours for what you are looking for with the hand-picked collection that is put together by the Videvo team.
Music:
Are you tired of searching for the right music that suits the feel and theme of your video? Then head straight to Videvo website without any further delay. You can find the perfect music that fits your video perfectly. Get royalty-free music and take your video to another level. The bonus point is that you can get music that is sponsored by Premium beat at a 15 percent offer if you have Shutterstock plan. Not just the latest music but the 60s, 70s, 80s and 90s music can also be accessed easily.
Videvo Pricing Plans:
When you are signing up for Videvo you have two choices; one is a free account and the other is a premium account.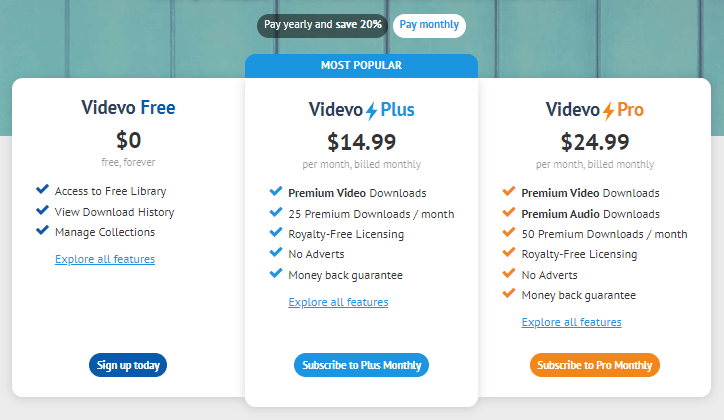 Free Account:
The free account gives you access to all the free content on the site including videos, music, graphic footage, and sound effects. You can also get additional extras at free of cost.
Videvo Premium Plan:
If you are opting for a premium account you are open to endless options based on the type of premium plan that you choose. Each plan has its own unique features.
Videvo Plus Plan:
The videvo plus gives you access to an extensive collection of premium videos with royalty-free licensing. You download 25 premium content per month.
Videvo Pro Plan:
Get access to an unfathomable range of premium videos and over 100,000 audio files. The added benefit of this plan is that you get a royalty-free licensing on all premium content.
Bottom Line:
Let your video be a definition for sophistication, quality, and attraction with the free stock content provided by videvo. Let your video speak instead of you, so immediately signup for a videvo account.