Redefine drinking with LARQ Bottles:
Did you know that about one million single-use plastic bottles are thrown out every minute? One million can you imagine that? Plastic choke the earth and the cascade of issues following that cares nobody. But only when people care, a bright future will be assured. With a vision and mission to kick out plastic and redefine drinking to be smarter, LARQ was started. It combines sustainability, safety, and intelligent design into one single bottle. You become what you drink is what they say and to ensure safe drinking of water the bottle is designed intelligently which purifies water. Safety is not one thing that you have to worry about with LARQ bottles.
The science behind the LARQ Self Cleaning Bottles success:
LARQ bottles are not just about the award-winning design. It is nothing like a normal bottle where just sip water. LARQ bottle is a product of science that makes just sipping water a phenomenon. It has a patented purifier system that kills 99.9999% of bacteria and 99.99percent viruses in adventure mode with UV rays at 280 nanometers. And the best part is that it is totally chemical-free. You can't find a self-cleaning bottle like LARQ that instantly activates every two hours and keeps water pure and stink-free. Get the best baby of science and make your daily life healthily hydrated.
LARQ Bottle:
Larq bottle is the first self-cleaning bottle that blends design and technology. It has an in-built UV-C system that kills 99.999 percent of germs including bacteria, protozoa, and viruses. It is the only mercury-free or ozone free water purification system in the world. The bottle has a double wall which keeps water cold for 24 hours and hot for 12 hours. It is made of steel that is electropolished and BPA free. The bottle has a micro USB connector for charging the lithium polymer battery. Suit your style with a range of colors like Monaco blue and Himalayan pink. Grab this bottle now with a 12-month warranty.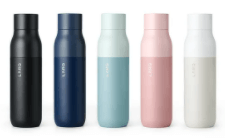 LARQ Bottle Movement:
The LARQ bottle is a movement to make drinking weightless. It combines a self-cleaning system and lightweight steel. This bottle is made of lightweight single-wall steel. This makes it perfect for carrying it everywhere. As it is a single-walled steel bottle it doesn't maintain the temperature of the bottle. The LARQ bottle movement comes in a double color gradient which combines two contrasting colors. It comes in capacities of 24oz and 32 oz. it also comes with a food-grade interchangeable sleeve and 12-month warranty.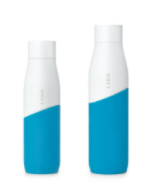 LARQ Bottle Cap:
LARQ bottle cap is the part of the bottle that makes the magic happen. In case you have lost your cap don't worry you can replace it with a new bottle cap which is the same as the old one and get back into your daily hydration routine. The cap comes with a lithium-ion battery that can be easily recharged. It also comes in a variety of colors to match every LARQ bottle.

Final Words:
Get the LARQ bottle now and sip safe and pristine water anytime anywhere. Be a part of making the world a better place by buying your brand new LARQ bottle now.