Tell a story with diamonds from Ice Rings:
A diamond is not just a precious stone but it is a piece of jewelry that can beautifully express love. To make it more valuable and special, Ice Rings provide the best quality diamond that is sustainable and sparkly. They give the best above the ground diamond that is one of a kind and brilliant. In an aim to make the bond between two souls that is beyond race, age, religion, race and gender, momentous, Ice Rings give limitless options. The special point is that you can design your diamond to tell a story and make your big day a memorable one.
Moissanite & Blue Sapphire Art Deco Ring:
Have you found the one for your life and yearning to propose to her? Go with the simple yet stunning Moissanite & Blue Sapphire Art Deco Ring. It is beautifully crafted in 14k white gold centering a magnificent 7.5mm round cut moissanite that stands tall in a traditional six-prong setting. This is equivalent to 1.50 diamonds. The magnificence of the center store is multiplied by the 0.14ctw of round brilliant cut natural diamonds E-F Color and VS2 clarity. The natural marquise cut blue sapphires in the band is the perfect definition for antique. You can order this ring in the size you want, at least before 12 days of shipping. This ring is the perfect choice for the perfect proposal.
Olive Branch Diamond Ear Climbers:
Not just rings but the finest jewelry that defines luxury and elegance is made by the finest experts of Ice Rings. The olive Branch diamond climbers are inspired by nature. This fresh and unique piece of jewelry is perfectly structured in 14 K gold adorned by beaming diamonds. The leaf motifs that are graciously etched on the stem on the climber perfectly nestles the curves of the ear. It has a VS2 clarity diamond at 0.30ct.tw. Grab this pair by pre ordering before 7 business days. It is perfect for a subtle party and elegant look.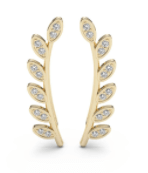 Diamond Cluster Necklace:
If you are a floral lover then this is the perfect necklace for you. The cluster diamond will stand magnificently in the center of your neck inviting glances of astonishment. A diamond cluster necklace is a graceful option that goes with almost any outfit. You can also pair this with a diamond cluster earring and steal the show. It is crafted in high quality 14 K gold. Order 5 days prior and get your hands on the handcrafted beauty.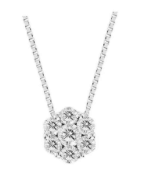 Diamond Hoop Earrings:
Looking for the modest yet stunning ring? Then the diamond hoop ring is the right choice for you. The millennial trend is magnificence veiled by simplicity; the hoop earring is the perfect example for the same. It has a 20 diamond each of which is etched in a 14 K gold hoop. The beaming diamond hoop can instantly liven up any outfit.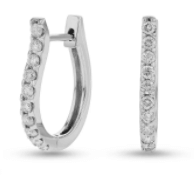 Bottom Line:
Ice Rings is just not a shop but an experience. Get any jewelry of your liking perfectly customized for you with free shipping. The best part is you can make your diamond dream come true with flexible payment options.