AlongFit Costumes for Sweat free workouts & yoga:
AlongFit is mainly created to deliver best products for every active woman. AlongFit aims to keep the active women fit and healthy. Company produces the products that are made of high-performance fabrics and are fulfilling the needs of their customer. By combining fashion and functionality, we provide you more comfort and breathe-ability. We offer a variety of products such as yoga pants, sports bra, and tank tops. Their features and fabrics are listed below.
Capri Yoga Pants:
The Capri yoga pants have a hidden waistband pocket, it lies flat and doesn't dig in. The products are very comfortable at the time of yoga, workout, and running. Most of the women wish to keep them fit, for those people these types of pants are suitable. Capri yoga pants feel good because of its softness. The pants give us a gentle hug. And it has 3 functional pockets. The fabric in Capri yoga pants is 77% of polyester and 23% of polyurethane. It gives a comfortable feel, skin-friendly; particularly it offers a stretch free movement during a workout. Multiple colors are available in Capri yoga pants. Machine wash or hand wash is suitable.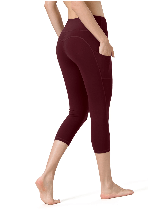 Swiftly Relaxed Lace Tanks:
Lace tanks have a v-shaped neckline, even backside is stitched with the V-shaped lace. The design of lace tanks is short in front and longer in back. Also, the backside is splitted into two parts. The fabric of lace tanks is very light, elastic, and breathable. The white color in lace tanks will be a little bit transparent. It is made up of 88% polyester and 12 % spandex. And the lace consists of 86% nylon and 14% spandex. The lace tanks are skin-friendly, also provided with 4 way stretch for freedom of movements. You can wash the cloth in a machine or even you can do hand wash.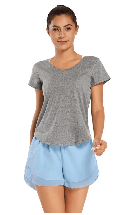 Pink Medium Support Sports Bra:
The outer and inner layer of the material is made up of 95% of polyester and 5% of spandex. The lining material of the sports bra is 100% polyester. The unique design of the pink bra has 3 layers say no to see-through even if you remove the pads. It is comfortable at the time of yoga practice, daily wear and it is very much useful during a workout. The features of sports bra are breathable fabric and removable pads inserted to customize your fit wide, triangular and stretchy straps offer extra support. Wash the padding by hand to avoid deforms. Pick your right size through the measurements. When you find your bust is between two sizes you can choose the right one.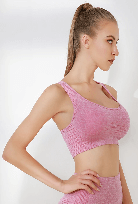 Sports Legging Pants:
Leggings pants are comfortable for women during a workout, because of the breathable fabric. It also offers two side pockets positioned well for hand placements, perfect for placing cell phones and sweat towels. It is made up of 77% polyester and 25% polyurethane. Also has four ways of stretching for freedom of movement. It is suitable for machine wash. These products are more comfortable for women who are more conscious of their fitness.